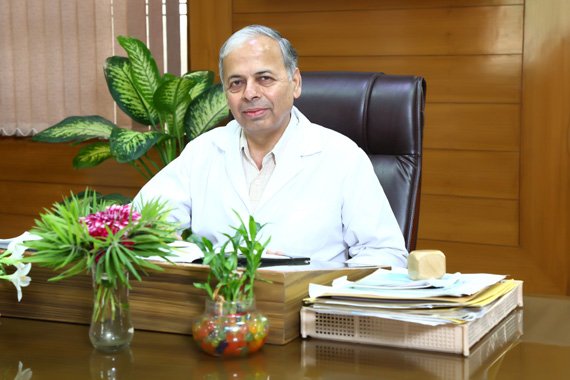 डॉ. ओपी कालरा चिकित्सा क्षेत्र के सर्वोच्च सम्मान 
डॉ. बी.सी. रॉय अवॉर्ड 

के लिए नामित
रोहतक: पंडित भगवत दयाल शर्मा स्वास्थ्य एवं विज्ञान विश्वविद्यालय में बतौर कुलपति डॉ. ओपी कालरा को पहली सालगिरह पर दोहरी खुशी हासिल हुई। चिकित्सा क्षेत्र के सर्वोच्च सम्मान डॉ. बी.सी. रॉय अवॉर्ड के लिए डॉ. कालरा चुने गए हैं। राष्ट्रपति के हाथों प्राप्त होने वाले इस श्रेष्ठ सम्मान को पाकर डॉ. कालरा के साथ न केवल पीजीआई बल्कि प्रदेश और सत्ताशीन सरकार भी उत्साहित है। विश्वविद्यालय के 8वें स्थापना दिवस समारोह में आए राज्य के स्वास्थ्य मंत्री अनिल विज ने भी डॉ. कालरा को मिलने वाले सम्मान को हरियाणा के लिए गौरवमयी उपलब्धि कहा। बातचीत में डॉ. ओ.पी. कालरा ने केवल इतना कहा है कि वह एक मिशन लेकर पीजीआई आए हैं। जब राज्य के अंतिम व्यक्ति तक बेहतर और सुलभ चिकित्सा सेवा पहुंचेगी तब उनका मिशन सार्थक होगा।
उल्लेखनीय है कि डॉ. कालरा के नेतृत्व में पहली बार पीजीआई की वार्षिक रिपोर्ट तैयार हुई है। डिजिटल विश्वविद्यालय सॉफ्टवेयर, डीएम एवं एमसीएच कोर्स को मंजूरी, संस्थान में किडनी ट्रांसप्लांट और मल्टीडिसीप्लेनरी यूनिट की शुरुआत के दूरगामी फायदे पीजीआई को मिलेंगे, जिसका पूरा खाका डॉ. कालरा ने तैयार किया। उनकी इच्छा है कि जब वह यहां से जाएं तब पीजीआई का नाम शीर्ष संस्थानों की सूची में ऊपर नजर आए।
Glimpse of Dr. O.P.Kalra
MD (Medicine) and DM (Nephrology) from PGIMER, Chandigarh.
Commonwealth Fellowship in Nephrology at Leicester General Hospital, Leicester, UK.
Visiting Clinical Scholar at University of Missouri, Columbia, USA
Awards and Orations
Young Investigator Award by Japanese Society for Dialysis Therapy in 1995.
Khullar Oration Award by Indian Society of Nephrology ,  Netaji Oration Award by API and Gen. Amir Chand Oration Award by National Academy of Medical Sciences (India).
Distinguished Academician and Researcher of the Year Award – 2010 by Indo-US Academic Council for Emergency and Trauma.
Delhi State Award by Government of NCT of Delhi – 2012 for contribution in the field of Medicine and Nephrology.
Published over 270 papers including abstracts and chapters in various scientific journals
and books.
Edited a book, "Renal Disease – Prevention and Management – A Physician's Perspective".